Products Catagories
News & Events
Contact Information
Taiyuan Simis Investment Casting Co.,Ltd.
Add: Taiyuan City,Shanxi Province,China
Tel: 0086-351-4063773
Email: sales@simiscasting.com
Skype: fanhui09@163.com
Web: https://www.simiscasting.com

Products
Shell mold casting
shell mold casting or shell molding is a metal casting process in manufacturing industry in which the mold is a thin hardened shell of sand and thermosetting resin binder,backed up by some other material. Shell molding was developed as a manufacturing process during the mid-20th century in Germany. Shell mold casting is particularly suitable for steel castings under 20 lbs; however almost any metal that can be cast in sand can be cast with the shell molding process. Also much larger parts have been manufactured with shell molding. Typical parts manufactured in industry using the shell mold casting process include cylinder heads,gears,bushings,connecting rods,camshafts and valve bodies.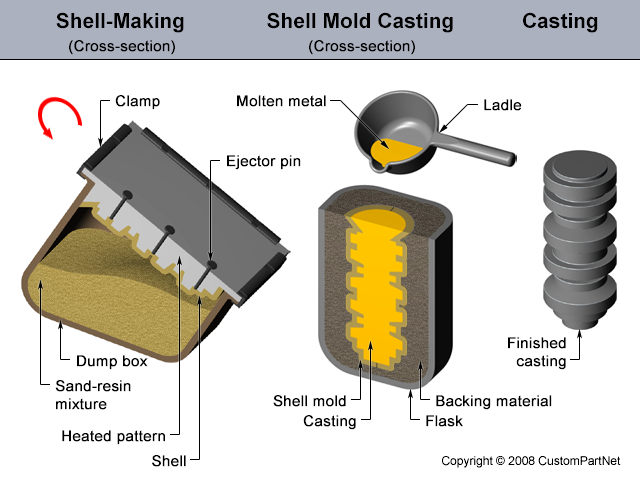 Shell Mold Casting products
View:
Shell Mold Casting technical & Institute
In the production, the proposed aluminum shell mold casting port settings in the top, while the metal mold by heating simultaneously with the vertical casting method, casting off the rough shaping good rate reached 98%.
Application of Compound Shell Mold Investment Casting in Complicated Aluminum Alloy Parts.
Structural Design and Experiment on the Composite Shell Mold for Investment Casting of Turbine Blade.
Application of Low Temperature Wax-Sol Silicon Colloid Shell Mold in Investment Casting.
Preparation of Shell Mold for Rapid-precision Casting Based on the SLA.
The ceramic shell mold of precision casting titanium and Ti-alloy is made from slurry by sinter, and the slurry is prepared by blending refractory materials with bond.
The Design and Application of Ventilating and Dust Collecting System for Department of Shell Mold Preparing Lost Wax Casting.
We can also adopt sand shell moulding or metal mold casting as for allotype castings.